Weapon Crafting
Edit
Currently weapons cannot be crafted in Crafting Dead: Cure.
Modding Guns
Edit
There are currently 13 Guns in the crafting dead mod, all of which can be applied simply by: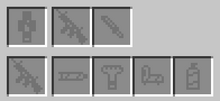 Hitting "E" to open your inventory.
Drag the gun into the gun slot on the top left, under the player icon where you add clothing.
Drag the mod into its respective slot; 2nd slot is for the suppressor, 3rd slot is for grips, 4th slot is for sights, and 5th slot is for spray paint.
Take the gun out of the slot and put it in your inventory.
Congratulations, your gun is modded! :D
If you ever wish to remove the mod, simply repeat the process, but drag the mod out of the slot instead.
Gun Mods
Edit
| sight | Name | Slot |
| --- | --- | --- |
| | ACOG | Sight |
| | Holographic | Sight |
| | 10x Scope | Sight |
| | 6x Scope | |
| | Grip | Grip |
| | Bipod | Grip |
| | Suppresor | Barrel |