Spray paint is a modification for guns.
The spray paints have 11 types: ASMO, Cyrex, Vulcan, Gem, Ruby, Ultra Violet (named UV on modpack), Fade, Candy Apple, Dragon, Multi Color and Fury.
ASMO - M4A1 and Scar-H_______Ultra Violet - MAC-10
Cyrex - M4A1 ________________ Fade - G18 and MAC-10
Vulcan - AKM _________________ Candy Apple - M107 and AS50
Gem - P90____________________ Dragon - AWP
Ruby - P90____________________ Multi Color - All guns
Fury - Mini-Gun
Spray

Paints

Applied

Weapons

M4A1 and

Scar-H

M4A1

AKM

P90

P90

MAC-10

G18 and

MAC-10

M107 and

AS50

AWP

All guns

Mini-Gun

==Info==
Spray paint is found in loot piles and it can be used to color your weaponry. Example : Orange spray paint + M9 in crafting table = M9 with orange-ish tint.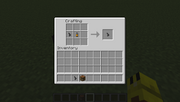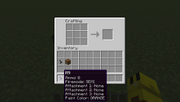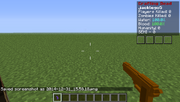 ==Loot Piles==
You can find them in anywhere from Rare loot piles to Extremely Rare loot piles.
==Trivia==
Weapons such as the DMR can't use all of the regular spray paints, orange for example.
Orange spray paint makes most guns seem like NERF guns :3
Orange spray paint on an M1 Garand makes it look like the body of the gun is made of a lighter colored wood.
The Diamond Ore spray paint can make some guns look like they are glowing slightly
Ad blocker interference detected!
Wikia is a free-to-use site that makes money from advertising. We have a modified experience for viewers using ad blockers

Wikia is not accessible if you've made further modifications. Remove the custom ad blocker rule(s) and the page will load as expected.